Rittal
Rittal boasts comprehensive solutions designed to help those with mission-critical applications and infrastructure to solve problems, accelerate operations, boost productivity and protect the environment. Customers also benefit from a unique and unparalleled modular system platform for industry and IT. What's more, Rittal has the solutions of the future at its fingertips with a smart system architecture that is made up of individual modules, including software and service, IT infrastructure, climate control, power distribution and enclosure.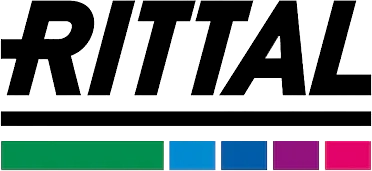 Rittal offers individual climate control concepts for room, suite and rack cooling. Featuring state-of-the-art climate control technology, customers can choose from cooling a single rack or cooling an entire data center.
Whether you opt for a water-based or refrigerant-based solution, or even a fan system, Rittal focuses on reliability, optimum energy efficiency and cost efficiency at every turn.
From IT enclosure systems to server racks and network distribution solutions, Rittal offers flexible systems and provides the ideal rack for each customer's individual requirements.
Available in a range of sizes with or without sidewalls, Rittal has a platform to meet the requirements of most modern IT infrastructures.
For pricing and specifications on Rittal Rack Systems or Rittal Inrow Cooling systems for your next project, contact us today. We're standing by to put Rittal equipment to work in your facility.